A Normal Life is a Story Chapter in Uncharted 4.

A Normal Life Video Walkthrough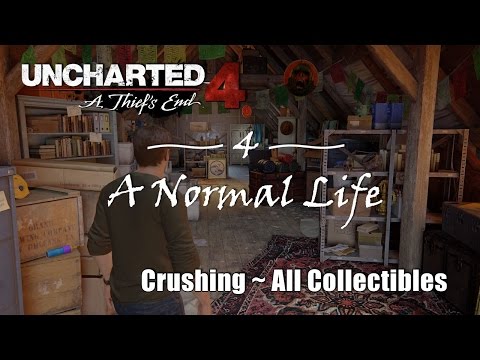 A Normal Life Text Walkthrough
This chapter explores Nathan's newly domesticated life. From the chapter start, you can explore the attic to look at several nostalgic mementos from Drake's past adventurers.
What follows is a light hearted tutorial on the game's shooting mechanics using a toy gun. You can obtain the Still Got It trophy by shooting all 4 of the hanging targets. 3 are an easy spot, and the 4th is hanging up a bit higher above the desk. Head down stairs and explore the second floor for more mementos.
Down on the first floor, bring Elena dinner to interact with her. This triggers a cutscene. Make your desired answer to her question to advance. Play the video game with her.
The next day, Sam will make a surprise visit and will ask about Hathan's life. Sam begins to fill Nathan in on what has happened since they saw each other last, bringing the chapter to an end.
A Normal Life Weapons